Apple and Google, the two biggest tech rivals. But the coronavirus (COVID-19) pandemic has resulted in an unexpected announcement from both. First-time ever the two companies are coming together to help public authorities with 'contact tracing of COVID-19 patients'.
In a joint announcement, the two companies wrote the following. "Software developers are contributing by crafting technical tools to help combat the virus and save lives. In this spirit of collaboration, Google and Apple are announcing a joint effort to enable the use of Bluetooth. In order to help governments and health agencies reduce the spread of the virus. Along with user privacy and security central to the design."
In another major announcement, Apple and Google said they will work together to help with tracing of coronavirus patients. Here's an image which suggests how they are coming together.
Announcements by Apple and Google
Both Apple and Google are preparing to launch what they call a "comprehensive solution" for COVID-19 tracing. Which will use "application programming interfaces (APIs) and operating system-level technology" to help track patients and their contacts. The duo relies on Bluetooth technology, which is present in nearly all smartphones to help with contact tracing.
A tweet by Apple CEO Tim Cook said, "Contact tracing can help slow the spread of COVID-19 and can be done without compromising user privacy. We're working with Sundar Pichai and Google to help health officials harness Bluetooth technology in a way that also respects transparency & consent."
Mr.Pichai also tweeted about the big collaboration saying, " To help public health officials slow the spread of #COVID19, Google & Apple are working on a contact tracing approach designed with strong controls and protections for user privacy. Tim Cook and I commit to working together on these efforts."
What did Apple and Google announce?
The first step will be in May when both Apple and Google will release APIs. This is to ensure smooth interoperability between Android and iOS devices. The APIs will work across apps from public health authorities. For example in India, there is the Aarogya Setu app from the government, which can help with COVID-19 contact tracing. The results and data of Android app do not calibrate with the iOS version of the app. With APIs being implemented at a software level, this could be possible.
The other big step that they will execute is what they are calling as a "broader Bluetooth-based contact tracing platform". This feature is a part of both iOS and Android. They call it a "more robust solution than an API". For the simple reason: Bluetooth-level tracing allows more number of individuals to participate and given COVID-19 spreads very quickly and the rate of infection is high, a mass-based technology can help here.
So however can Bluetooth tracing work on android and iOS phones?
Both Apple and Google have given out details on the Bluetooth technical specifications. And the way this technology can work with contact trailing. The technology can work on each android and iOS systems.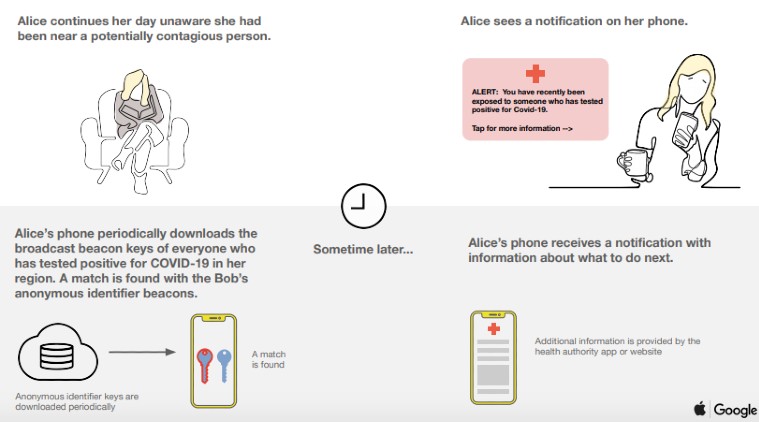 The user can try to enable and provide express and clear permission that they're opting-in for this sort of contact tracing, in line with the businesses. specifically, however, this permission is going to be taken isn't clear, however, it may well be at intervals the app they decide to use.
If this is at the computer code level. Then pushing out the iOS update is easier because most phones are on the most recent version and Apple has tighter management over the system. However, within the fragmented humanoid universe, it's not clear however this update can reach all smartphones.
In a graphic, the businesses have explained however the Bluetooth bit can work. For eg. two people X and Y meet for a short amount. Their phones can then exchange symbol beacons via Bluetooth. These beacons keep updating oftentimes. Days later person Y tests positive for COVID-19 and decides to enter that knowledge into a public health authority app. With consent, the phone transfers broadcast beacons (same that is shared with person X's phone) from the previous fifteen days to the cloud.
In the meantime, person X's phone can still transfer the printed keys of everybody UN agency has tested positive for COVID-19 in their region. Once a match is found with the Y's anonymous symbol beacons, person X is alerted that they met with a COVID-19 patient and a notification is distributed to their phone alerting them on what to try to next.
What regarding privacy here?
Both Google and Apple insist that so as for the Bluetooth tracing to figure, a user can provide express consent. It's doubtless that each can push a computer code update across all android and iOS devices to feature this feature. Specifically once and the way this can be done remains not clear.
The Bluetooth tracking won't "collect in person distinctive info or user location data", in line with the businesses. The list of individuals you have got been in grips with won't leave your phone.
Further, Google and Apple won't determine people who check positive. thus you'll not receive Associate in Nursing alert spoke communication person A is positive and you were in grips with them. the sole warn you can receive is that you simply were in grips with somebody UN agency has been tested positive for COVID-19.
The patient too needs to opt to validate this info via Associate in the Nursing app, that has been designed by public health authorities to assist with contact tracing for COVID-19 management. The Bluetooth tracking won't extremely work if the COVID-19 patient isn't truly victimization any such app and doesn't enter the info on their phone